Take The MyLife Challenge: Apply Chassidus And Win $10,000! 5779/2019 – Ends Feb 12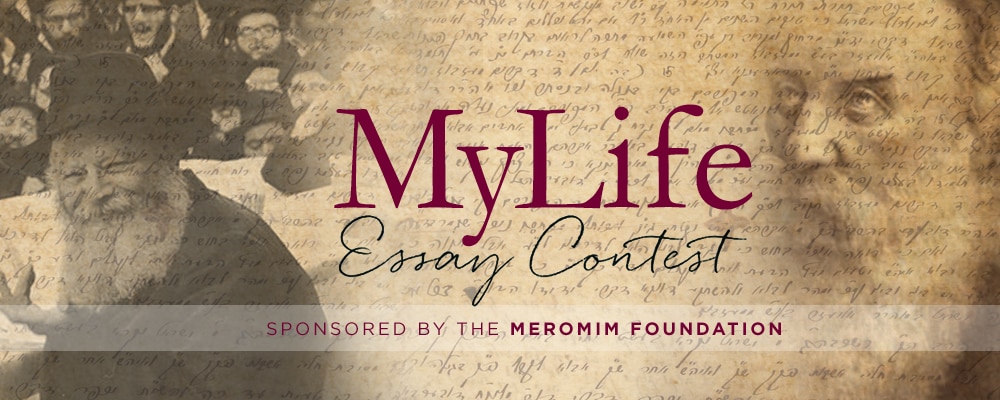 Following the huge success of the previous years' MyLife contest, the Meaningful Life Center is proud to announce the fifth annual MyLife: Chassidus Applied Essay Contest.
You are invited to submit an original essay applying a concept or idea in Chassidus to solve a contemporary life issue or challenge. A panel of judges will select the winning essays. The MyLife: Essay Contest is made possible by a grant from the Meromim Foundation.
Awards
1st Prize: $10,000
2nd Prize: $3,600
3rd Prize: $1,000
Student track prize*: $500 
* Any student ages 14-21 who submits an essay will be entered into an additional contest
exclusively for students. The exclusive student track does not take away from the ability to win the grand prize or any prize in the main competition.
Rules and Guidelines
Download and review our detailed guidelines, contest rules and eligibility (click here).
לחץ כאן להורדת מסמך ההנחיות והכללים של התחרות, ולעיון בפרטים נוספים.
Entries must be uploaded by 11:59 PM EST on Tuesday, February 12 (Zayin Adar I) to be eligible for consideration.
Submit Essay Here
1.  Review the contest guidelines.
2.  Fill out the form below.
3.  Attach your essay (using the choose file box) in Word or PDF.