Editors note: The following letter was received by Rabbi Simon Jacobson after the publication of his book Toward a Meaningful Life
"I am a 47-year-old executive—very successful and accomplished; admired and respected. Yet beneath this fine veneer lies a woman in shreds. You see, my soul was murdered as a young child when my parents abused me physically, emotionally, sexually. Every day of my life is essentially a struggle against suicide. I feel no self value, actually no self at all. I am a sum of my parts, and my value is based on how others value me. I have tried many therapies but essentially have remained the same. Intimacy doesn't work in my life, relationships are either unhealthy or nonexistent.
"In order to compensate for this deep void and lack, what I have done, as do people in this situation, I have become superambitious and hyperproductive in order to create some semblance of outer control in place of no inner control. It helps distract me somewhat and helps get me through the day, but it doesn't really change anything. Inside I am a wreck, and every day, sometimes every moment, is another struggle.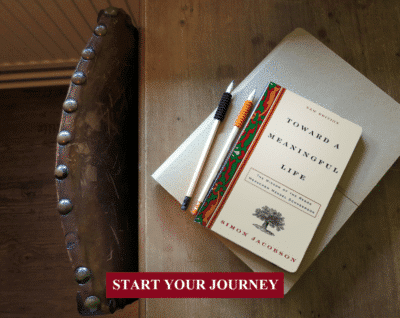 "I had long given up hope and resigned myself to this life of misery. But then a miracle happened. Someone gave me the book Toward a Meaningful Life as a gift. I am Jewish but non-observant, and I was glancing through the book with a measure of skepticism until a line jumped out at me and struck me like a thunderbolt, like a silver bullet between the eyes:
"The line said: 'BIRTH IS G-D SAYING THAT YOU MATTER.' I read it again. 'BIRTH IS G-D SAYING YOU MATTER.' I read it over and over at least 500 times. And I will continue to read it every day of my entire life.
"I suddenly realized, after 47 years, that no matter what my parents told me, no matter how they said I was an accident and a source of misery in their lives, that no matter how society tells us that we are just a statistic in someone's balance sheet, that our value is measured in buying power, productivity, looks, youth, contacts, and money—none of matters because I matter to the One who matters most. To G-d, who created me and said, 'I want you on this Earth. I need you.
"The mere fact that I was born, that I exist, regardless of my mood, my performance level, my looks that day. The mere fact that I am here is a vote of confidence from G-d that I am indispensable, absolutely necessary, irreplaceable. No one can replace me. I matter. I truly matter.
"Do you know how that made me feel? That I have permission to matter. I am commanded to matter.
"So though I still have many years to heal, now, for the first time in my life, I have hope. And I know what I need to do. I need to create bypass surgery to bypass the infected arteries that my parents gave me when they touched me, criticized me, hit me, for the first time, and reconnect to that first, pure, innocent moment of birth, when G-d said YOU MATTER, you are indispensable.
"So thank you for giving me back my life."