Online Courses
Kabbalah of the Zodiac Course

What does my birthday month tell me about myself, my personality, my strengths and weaknesses? The Kabbalah offers deep mystical insights into the zodiac, exploring each month's sign and the power that lies within it.

Each of the twelve Hebrew lunar months exudes unique energy. Discover the regenerative power contained within them. Explore its mazal (sign), tribe and corresponding soul-dimension. Learn the secrets of your soul hidden in your Hebrew birthday month.

Take a journey beneath the surface of your personality and allow yourself to travel beyond the stars and experience new vistas and possibilities.

Register for Webinar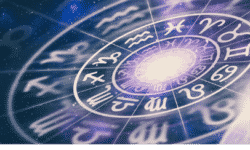 What does my birthday month tell me about myself, my personality, my strengths and weaknesses? The Kabbalah offers deep mystical insights into the zodiac, exploring each month's sign and the power that lies within it.
Each of the twelve Hebrew lunar months exudes unique energy. Discover the regenerative power contained within them. Explore its mazal (sign), tribe and corresponding soul-dimension. Learn the secrets of your soul hidden in your Hebrew birthday month.
Take a journey beneath the surface of your personality and allow yourself to travel beyond the stars and experience new vistas and possibilities.
Register for Webinar