Passover
Freedom may be defined as the right to ask questions.
Passover 2022: April 15-April 23.
This is where it all began, when a family of tribes became a nation of people, when a body of slaves became a soul of freedom. Some people have an exit strategy; we have an exodus strategy. Freedom requires the removal of all ego. Then, you can sit down to the Seder, eat the matzo, drink the four cups of wine, and tell the story of your journey. We are all children and we all ask questions. There is a Seder plate and there are fifteen steps to the journey. These steps aren't measured by their number but by their infinity. This is what it means to be a free people.
---

Passover Seder Guide: FREE DOWNLOAD
Passover in the Age of Corona: 15 Step Soulful and Musical Journey through the Seder

How to Host a Passover Seder

My Omer: 49 Steps to Personal Refinement
Explore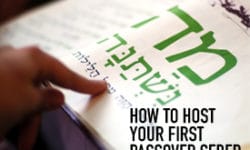 Discover in this program methods and tips to creating an unforgettable experience, which will empower all with sustainable tools to free themselves emotionally, psychologically and spiritually.
Read More
View All