Moses
Good leaders enter the Promised Land. Great leaders teach people how to find the Promised Land on their own.
'The water-drawn,' Moses was not your predictable leader. Moses grew up in the home of a pharaoh, lived in obscurity for a large portion of his life, and only formerly began his leadership at the tender age of 80. Moses had difficulty articulating. Moses transcended speech and was the humblest man to ever live. Moses was married to Tziporah, a daughter of a Midianite high priest named Yitro. The Divine Presence would speak through the Moses' throat. Moses led the Jewish people from the slavery of Egypt to the borders of the Promised Land. Everything Moses did was driven only by what was best for the people, even arguing with God on their behalf. Moses passed away right before the people entered the land, but not before he taught them how to live.
Explore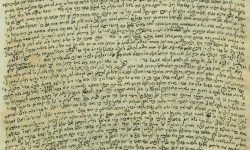 This manuscript was penned by the second Chabad Rebbe's (Rabbi Dovber Schneerson, the Mitteler Rebbe), and it includes the conclusion of a discourse delivered by his father, Rabbi Schneur Zalman on Shabbat Parshat Va'eirah 5568.
Read More
View All