This article was originally published on Chabad.org on October 10, 2016.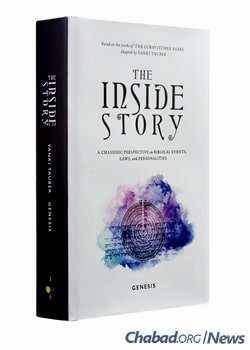 With Simchat Torah on the horizon, Jews around the world are gearing up to begin the annual study cycle of the Five Books of Moses.
This year's learning will be enhanced by a new series, The Inside Story: A Chassidic Perspective on Biblical Events, Encounters and Personalities, the first volume of which is poised to hit Judaica store shelves within days.
Authored by Yanki Tauber, the series is culled from his voluminous renderings of the Chassidic teachings that illuminate the weekly Torah portion. The teachings, which first appeared in the weekly publication Week in Review and gained acclaim in Chabad.org's From the Chassidic Masters column, are being presented in book form for the first time.
The Inside Story is published by the Meaningful Life Center, a nonprofit organization dedicated to personal, societal and global transformation through presenting the universal wisdom of the Torah as a blueprint for life.
Based on the teachings of the Lubavitcher Rebbe–Rabbi Menachem M Schneerson, of righteous memory—the essays demonstrate how each event in the Torah is an eternal lesson as relevant today as it was 3,300 years ago. Among the Rebbe's contributions to Torah scholarship was his ability to take any event in the Torah—from the most well-known to the most esoteric—and bring forth its inner meaning and salient message for the contemporary student.
Writes Tauber: "The Rebbe's premise is that the Torah is 'G‑d's blueprint for creation'—every detail of which, no matter how 'minor,' is integral to our understanding and realization of our mission in life."
The first volume is a collection of 80 Genesis related essays centered on the inner meaning of the Torah's best-known stories. The behaviors of Abraham, Noah and Moses teach how to most effectively love one's fellow beings. The trials of twin brothers Jacob and Esau underscore the importance of individual actions in the role of perfecting the world. And from the abduction of Jacob's daughter, Dinah we are introduced to the Rebbe's revolutionary definition of the woman's role in Jewish society.
The Inside Story carries the inside story within each individual, instilling the realization of how vital and meaningful the Torah is for contemporary life.