Pirkei Avos
Reading these moral chapters of truth helps us write our own moral chapters in life.
Starting after Passover, there is a custom to read a chapter of the "Ethics Of Our Fathers" every Shabbat up till Rosh Hashanah. Do you want to get rich fast? Are you looking for the key to wisdom? Then you have come to the right place. From the Golden Rule to the secret of friendship; from the ideas of government to the ideal time to get married; from whether one can one have Torah without Ethics to whether one can one have Ethics without Torah, the Ethics of our Fathers is a book that will leave you smiling, will leave you wiser, and, if you really heed it's advice, it will leave you richer.
Explore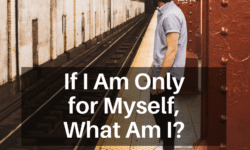 Rabbi Simon Jacobson discusses the famous quote, "If I am not for myself, who will be for me? If I am only for myself, what am I?" In this short video, you can discover the fundamental ideas behind true empathy while looking after your own needs.
Read More
View All